Hanoi – December 17, 2021, in order to connect startups with investors, contributing to promoting Vietnam's innovative startup ecosystem, solving challenges posed in the context of Covid-19, towards a sustainable Vietnam, Management and Sustainable Development Institute (MSD) – United Way Vietnam and National Economics University, with the support of Shinhan Square Bridge Vietnam program organized the Award Ceremony of the Future Solution Contest 2021 and Seminar on Startup Connect.
TECHFEST 2021 is the first year with the participation of the Social Challenge and Innovation Village with the goal of connecting stakeholders such as state management agencies, businesses, investors, institutes, startups, social organizations to promote innovative models and initiatives, solve society's challenges, and support disadvantaged groups in the context of the Covid-19 pandemic. In more than 3 months of attendance, the Social Challenge and Innovation Village has made its mark with a series of seminars, contests, supporting activities, and connecting startups.
The Award ceremony of Future solution contest 2021 – startups "Creating trends, leading changes"
Opening ceremony, Ms. Nguyen Phuong Linh – Executive Director of MSD – United Way Vietnam, Head of the Village shared that start-ups that create social impact are the pioneering organizations leading the trends. "I remember a few years ago, when the social enterprise, business or start-up topics made a social impact, people used to say that it was irrational people, people who deviated from the common sense or dreamers, people who have to overcome many difficulties to succeed, because not only solve economic problems, also solve social problems. But I think that's the story of previous years, when the Sustainable Development Goals, the striving for social justice, and the belief in an equal and civilized society were not put into the core and trend efforts of all stakeholders in society from the state, businesses, investors, start-ups, NGOs, Institutes, etc. The role of solving social challenges and promoting a green and circular economy is not only just the role of the state and development organizations, but also a global trend, promoting active participation of businesses, investors and startups. Transformation and change can be fast or slow in every place, every institution in the world, but there is one clear thing: Those who were irrational or deviated from the past are leading. Following the trend, they are not alone. The startups that make an impact and are honored today are the pioneers, "setting trends, leading change" for Vietnam's equality, strength and sustainable development.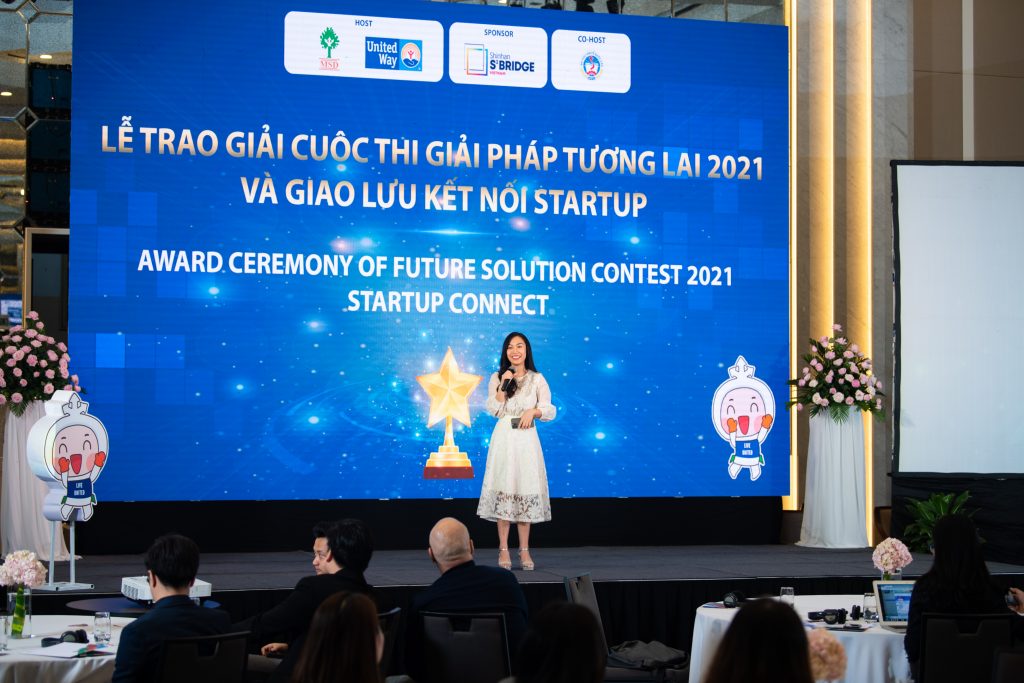 Representative of Shinhan Square Bridge program – sponsor of the Village and at the Gold supporting for TECHFEST 2021, Vice President of United Way Worldwide organization in Southeast Asia, Korea & Japan emphasized: "Through the activities of the Social Challenge and Innovation Village, we want to be able to connect with investors for sustainable development during the pandemic. Through Technology, we can support those struggling during the pandemic and social impact. Only through innovation can we help the whole society in any geographical area. Shinhan Square Bridge is very honored to become a sponsor for Village and TECHFEST 2021. It is known that Vietnam is an important market and we also have cooperations with regulatory agencies, social enterprises, the community to promote these programs. I also have great experiences with startups and I have learned a lot from them myself. Startups have started to duplicate their model a lot, but they still have many challenges when approaching customers, finding a direction for their business… and then we joined hands to help the Vietnamese community and created the Living Lab program to push this further. Congratulations to all startups for their success and thank you who have been with us all this time."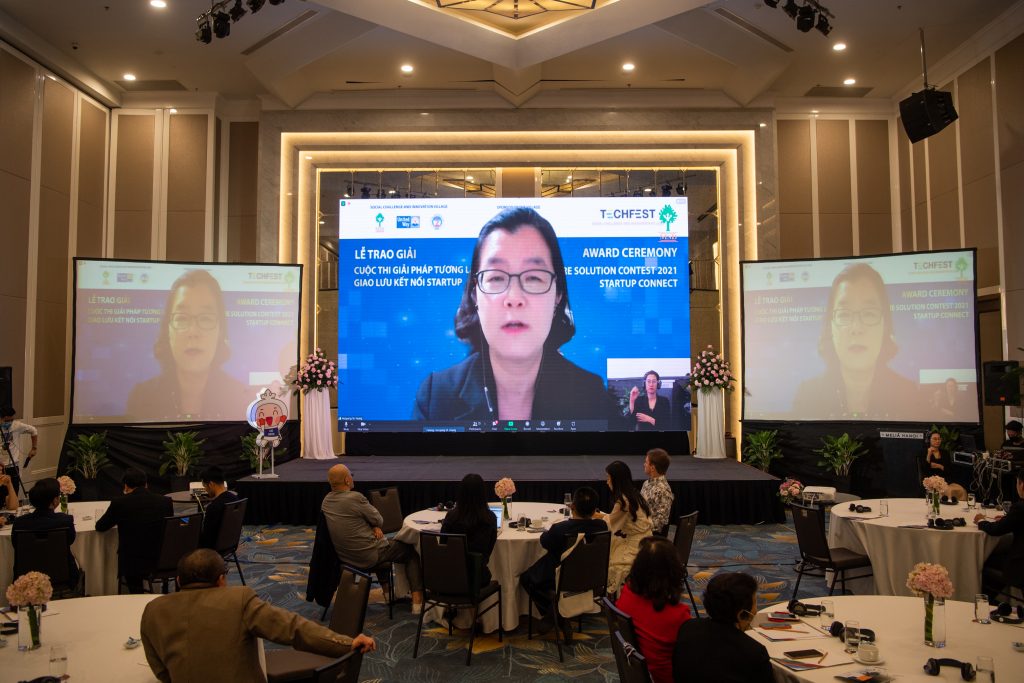 Speaking in the contributions' recognition of the Social Challenge and Innovation Village, Mr. Pham Hong Quat – General Director at National Agency for Technology Entrepreneurship & Commercialization Development said: "Although this is a new village launched this year, but the Village has launched many initiatives, including a contest to find solutions for the community to overcome challenges in the context of the COVID pandemic. Many advisors and experts of the Village have enthusiastically accompanied the competition teams to find the best solutions, new technologies, new values ​​to serve the community and society and this is solution to get through the COVID pandemic together. The National TECHFEST Organizing Committee respectfully acknowledges and highly appreciates the efforts and contributions of the Village. We also hope that the competition teams will continue to promote their initiatives to have new creations, find new solutions, help the Village find new initiatives to solve social challenges."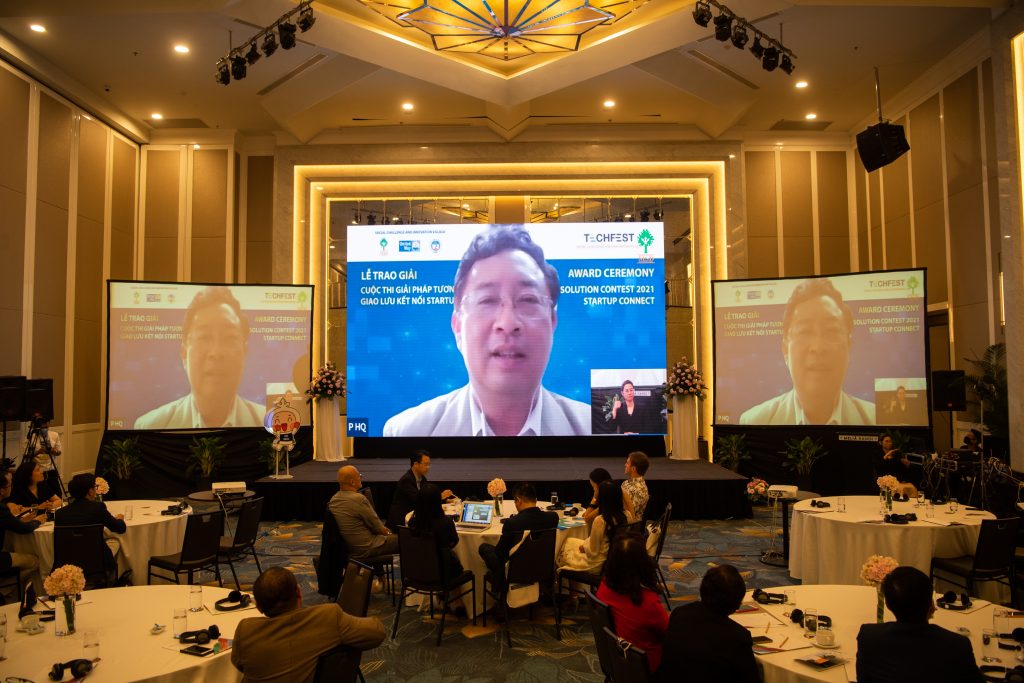 In order to encourage start-ups, young people, and start-up groups to discover and propose creative ideas and solutions to solve challenges, and at the same time promote the spirit of entrepreneurship in the field of innovation, creating a foundation for entrepreneurship projects to participate more deeply in National and International Accelerator Programs, the Social Challenge and Innovation Village within the TECHFEST 2021 framework to organize the" future solutions 2021 contest" in the period from September to December 2021. The contest is sponsored by Shinhan program.
Square Bridge Vietnam and National Innovation Ecosystem Support Program 844. The contest received enthusiastic participation from more than 50 startups and 17 idea groups across the country with many unique, innovative models, projects and ideas that promise to bring positive impacts to socio-economic development. After more than 2 months of implementation, receiving applications, rounds of selection, training, and coaching, the Organizing Committee and the Jury have found the best teams to honor in the ceremony.
In particular, the first prize in the startup team went to SheCodes Vietnam – a start-up enterprise that brings opportunities to access science and technology, programming for thousands of female students and Vietnamese women, eliminating the digital gap and gender equality. The SheCodes prize is VND 50,000,000 cash and other technical support in the Shinhan Square Bridge program coordinated by MSD and UWW. The second prize is TreeOTek and VietSearch Co., Ltd. TreeOTek is a company with great products in intelligent air purification, protecting the environment and people's health, and VietSearch has an effective application in connecting Vietnamese expatriates around the world. Each second prize will receive a cash prize of VND 25,000,000 and technical support from Shinhan Square Bridge. In particular, promoting women's innovative entrepreneurial spirit, the Future Solution Contest has its own prize for start-ups founded and led by women worth VND 20,000,000 in cash and other prizes. Other support was given to PVA Pro JSC and founder Thai Nhu Hang.
In the Youth teams and other group to encourage creative startups, the first prize belonged to Mr. Dinh Xuan Anh with the idea of ​​MLEM Application. There are also second prizes, 3rd prizes and consolation prizes also sponsored by Shinhan Square Bridge program.
Ms. Nguyen Huyen My – Founder and CEO of SheCodes – Leader of the Future Solutions Contest 2021 shared: "We are extremely honored and proud to receive this award, because this partly proves the great strong and recognized educational technology program to reduce gender disparities in access to education. As Technology advances more and more, no one will be left behind. The competition is a good opportunity for us to exchange and learn, and this will be a launching pad for further development in the future."
In addition to cash prizes, the winning teams and the Top 15 finalists all receive certificates and other exhibition, training, and networking support from the Shinhan SquareBridge Vietnam program.
CONNECTING INVESTORS: "Investing in value is a sustainable investment"
The program was followed by 2 seminars with the topic: Investment and mobilization resources for social innovation & Investment and mobilization resources for social innovation
At panel 1, representatives of businesses and investors shared information, expectations and experiences in business development, raising capital for start-ups.
Panel 1 has the participation of famous investors in Vietnam and the region including:
Ms. Khuc Thi Hong Nga – Director of Vietnam Startup TV (VSTV)
Mr. Chinh Nguyen – Investment Associate at BEENEXT
Mr. Makoto Tominaga – Founder and CEO of Credify
Mr. Duc Khong – Chairman of VietinBank Fund Management Company
Mr. Bobby Liu – Director of EIR, TouchStone Partners
Mr. Nguyen Minh Tuan – CEO of CyberAgent Capital
With many years of experience as an advisor and training specialist for start-ups, Ms. Khuc Thi Hong Nga shares her experience on how to attract attention and investment from investors: Your goals for your customers. When the idea is good, let's develop something different: what value will your idea bring to the community? What makes you different from other businesses? These will attract investors because it is the advantage that businesses compete with each other. From there, you should build your own strategies, operations and marketing,…"
From an investor's perspective, Mr. Bobby Liu said: "We, investors, have quite similar views. We can see whose investment idea is and whether the person with the idea can continue to execute. Every team needs core members. First, we need to impress investors and that means we need good founders and good partnerships. We need to do everything from A-Z and understand what we are doing, understand our vision. We have factors to evaluate a startup's success or not, such as market demand. Founders have to really stick with their ideas. We're not looking for founders who just talk well, they need to believe in what they're doing and they have to have different characteristics to solve the problem."
Mr. Duc Khong shared about businesses that create social impact: "There are quite a few projects on solving social problems, but it is important to remember that if you want to develop sustainably and last, help people in need, firstly your initiatives must be profitable. For those who do investment appraisal, we are most interested in those who are operating with enthusiasm for startups? Ideas are also important, but more important is the process of turning ideas into products, operating in the right direction and applying them to the market. During the operation, you should find the right experts to help you deploy the product in the best way, to do business for the professionals. The second important appraisal is the strategic goal of the business. You need to map out a specific and appropriate route, perform the right role as an idea creator. Until now, in Vietnam, the focus of capital for businesses is still mainly self-sufficient capital. Capital from commercial banks must depend on the state and startups must prove their achievements in the future to be funded. Fundraising is still subject to many laws."
At panel 2 about Social Innovation and Digital Marketing in the new era, speakers are experts in the field of communication and marketing, giving advice in developing the image and brand of the start-up.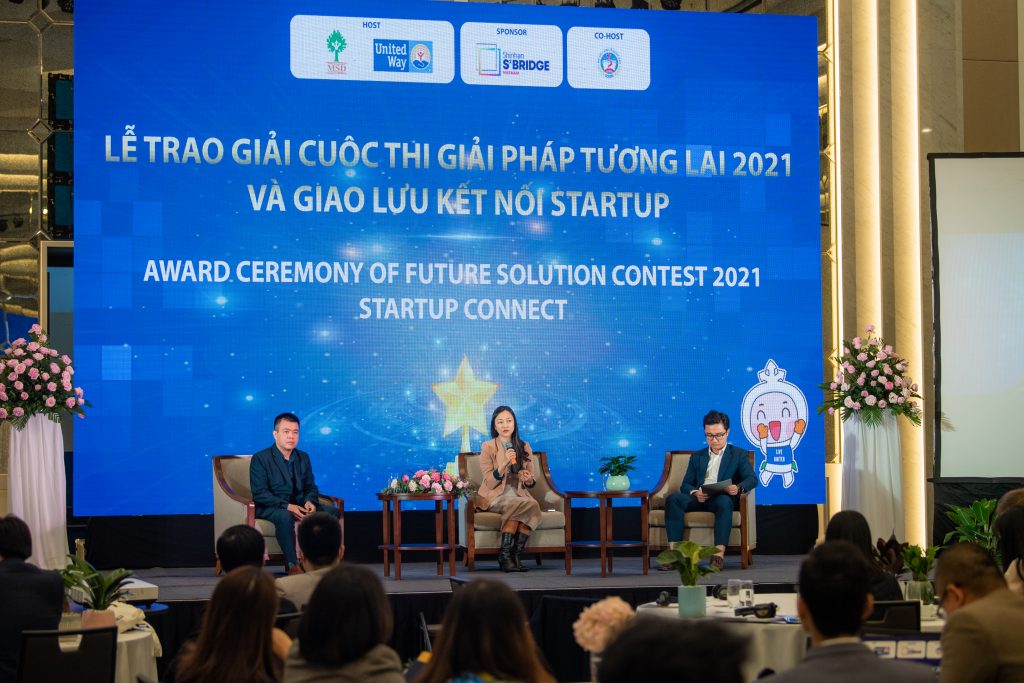 Hang Pham – Founder and President of BambuUp shared about digital transformation in communication and marketing: "Digital transformation is part of innovation, but the way to innovate is for you to choose. It is not every new technology that creates innovation. We are currently working on a report, for the first time giving a map of innovation in Vietnam, first of all, the human pillar, the second pillar is economic, the third pillar is social impact to environment, sustainable development and the last pillar is Technology. When you generate ideas for social impact, investors will incorporate startup ideas into the business."
Mr. Nguyen Lam Thanh – Policy Director at TikTok Vietnam said: "The trend of social media is very clear, positive and humane factors are very necessary things for life. According to TikTok's very specific statistics, it is only humanistic positive topics that are capable of lasting attraction and positive interaction, not elements that only shock, violence, etc. which we still think will be more sensational to attract viewers. Therefore, it is very advantageous for startups to make an impact, which can tell a human story, bring lasting value, to sharpen the brand, contribute and positive image to create trust. sustainability from customers".
Sharing the view that wanting to promote a brand needs viral and shocking elements, Communication Expert Nguyen Ngoc Long – Founder of Black Moon Media said: "Viral should not be considered as a guideline for communication but focus on communication. Focus on the values ​​and content that you can convey to customers. In addition, do not consider viral to be sensational and shocking, but there are many factors to be able to make viral communication – especially strange and creative are the advantages of startups. However, for long-term development, I advise startups to do well with basic communications, build content and develop communication channels, and have content right from the beginning and often. Through today's awards ceremony, stakeholders can sit down to approve a standard model of marketing for startups."
Watching this program again: https://www.facebook.com/livinglabvn/videos/598289104780096
---
About Management and Sustainable Development Institute (MSD):
As a Vietnamese NGO, MSD strives to act for a favorable development environment for the development of social organizations and promote the realization of rights of marginalized and marginalized community groups. vulnerable groups, especially children, young people, women and people with disabilities. Currently, MSD is recognized as a leading organization in coordinating, supporting and providing capacity building, training and consulting services to civil society organizations in Vietnam. In addition, MSD is also a professional organization that effectively responds to the needs and protects the rights of disadvantaged communities, including promoting gender equality, through programs, projects and provision of services. services to support children, young people, women, immigrants and people with disabilities, etc. in Vietnam.