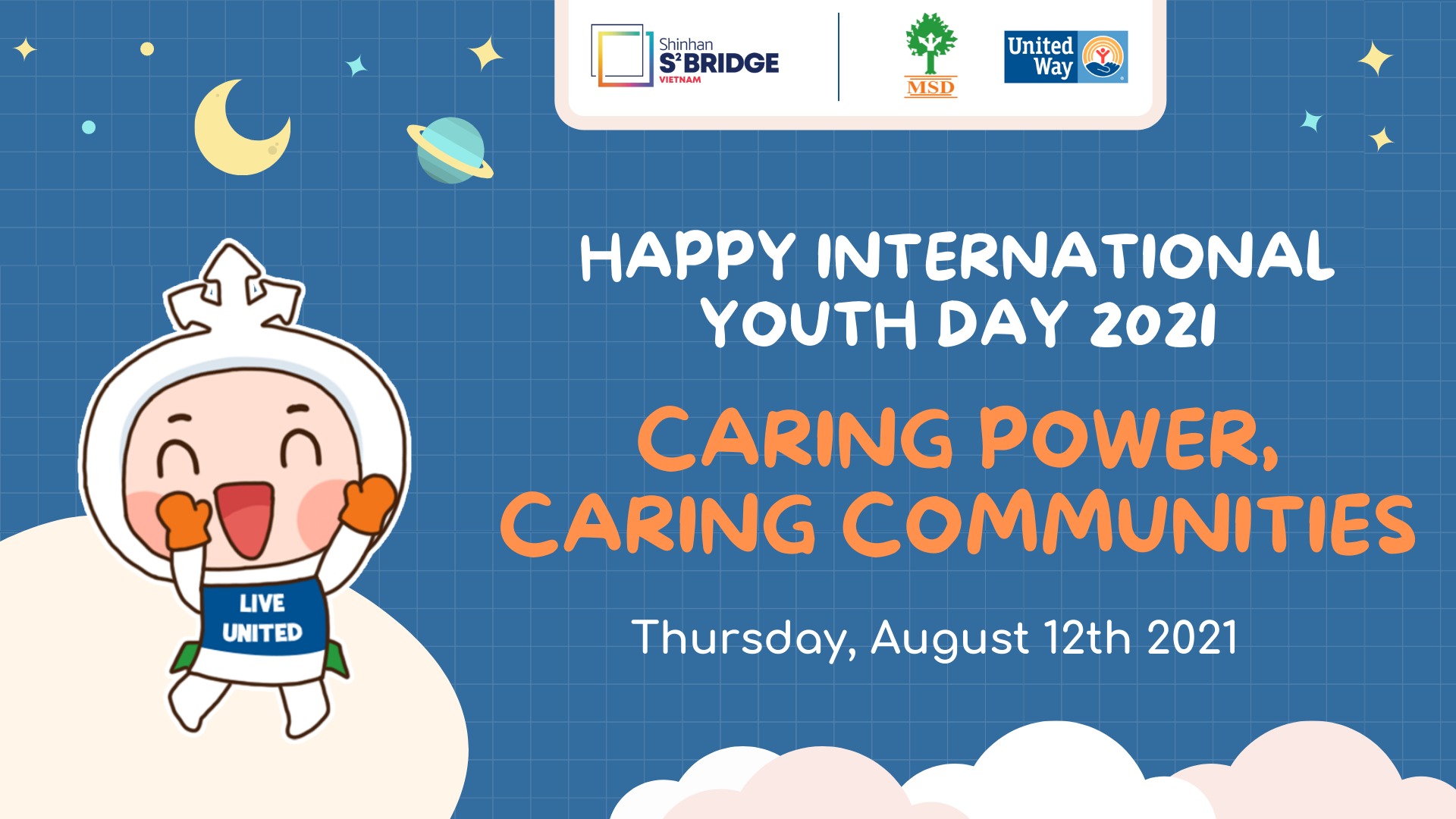 Hanoi, August 12, 2021 – The Management and Sustainable Development Institute (MSD) and the Youth Leader United Vietnam Community conducted an online discussion with the topic "Caring Power – Caring Communities – Connecting the power to create social values". This program is implemented in response to International Youth Day (August 12). The program is implemented with support from United Way Worldwide and Shinhan Square Bridge project.
Since 1999, the United Nations General Assembly has designated August 12 as International Youth Day to provide an opportunity to honor youth's voices and initiatives, and to call on all governments to address the youth problems around the world. In fact, in today's society, young people have a special role in the global dialogue on all issues and they are participating in expressing their voices and actions strongly and passionately in traditional way. Therefore, the program is implemented as a gift of gratitude and inspiration on the International Youth Day to enthusiastic young people, boys and girls who are passionate about social activities and are willing to contribute devote himself to creating a sustainable Vietnam with no one left behind.
The program is conducted through an online meeting application and broadcast live on the fanpages of MSD Vietnam and Youth United Vietnam. The program has the participation of representatives of Hanoi Youth Union, United Way, speakers with many years of experience in building and implementing social projects, youth representatives from Youth Leader United Vietnam, Champion of Change Club and young people interested in participating in creating social impacts.
In the opening speech, Ms. Nguyen Phuong Linh – Director of MSD shared: "We still say: Youth is only once, but I believe that if that youth is meaningful, then once is enough. Live, enjoy and experience youth, but also don't forget that you – yourself can make your own youth time meaningful according to the theme message "Caring Power, Caring Communities". That meaning comes from your awareness and responsibility to yourself, to be able to adapt to the situation, have fun and enjoy yourself, and keep yourself safe. By living a happy, safe and responsible life, mastering yourself, you have created a positive puzzle, spreading the Power and energy of happiness to the surrounding community. And if more wonderful, the meaning of your youth can show and spread meaningful work to the community, solve problems and create social impact. You are not small individuals, you are the ones who have the power to make a change in the community for sustainable Vietnam. We hope that not only in today's program but also in the days to come, your ideas, messages and efforts will be shared, spread and reflected the true spirit of Caring Power, Caring Communities."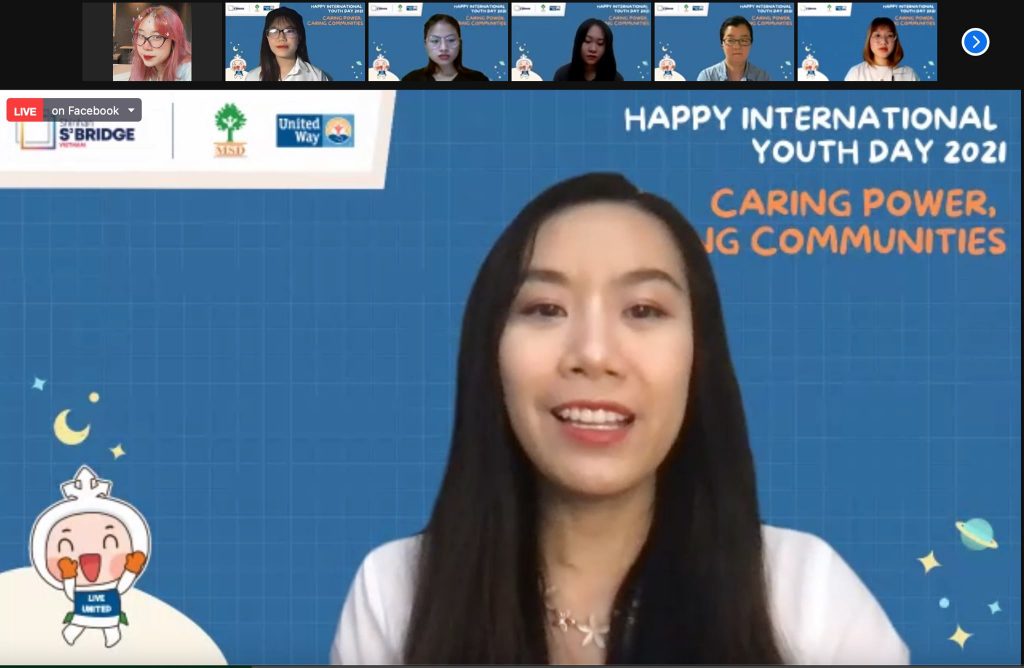 Mr. Tran Quang Hung – Deputy Secretary of the Hanoi Youth Union, President of the Vietnam Student Union emphasized: "I am very pleased that more and more young people are engaged in social activities. We live in the digital age, so today's digital transformation tools give us a lot of opportunities. If we create volunteer campaigns that use digital tools to expand activities, many people participate in support, it will bring an element of "snowball", bringing more impact than 1 person do-it-yourself. Currently we can do a lot of projects using the data we have and enrich it. We have the tools, the motivation and a community to help us, so let's try to do it."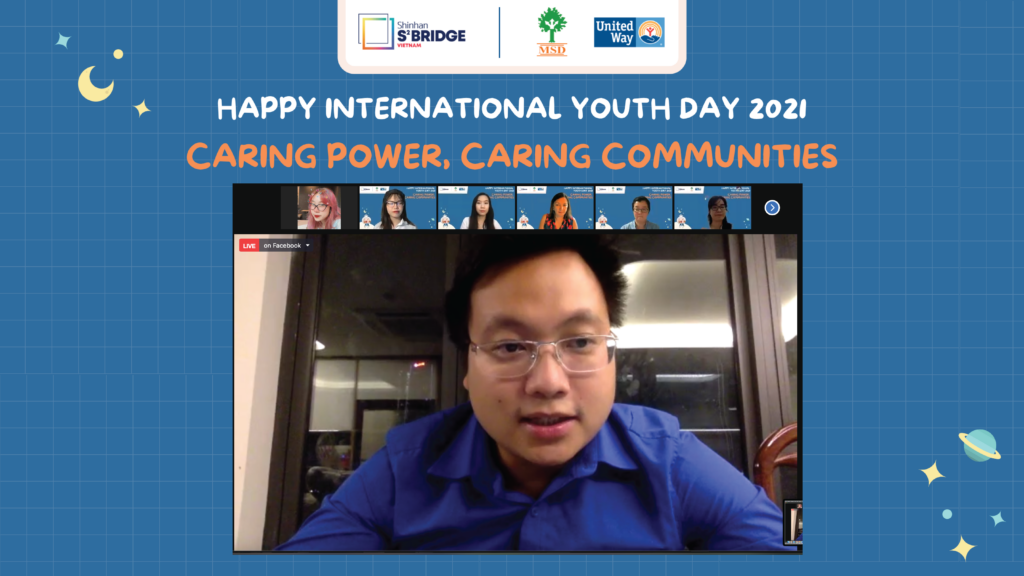 The discussion was followed by sharing from the speakers about the trend of youth activities to create social impact in the world, their roles and skills to carry out social activities.
Ms. Mei Cobb – Senior Director in charge of Volunteering and Employee Engagement of United Way Worldwide shared about the theme "New Age Youth – Building Community with Solidarity and Creation". She said: "Volunteering, participating in social activities is a way to help spread meaningful and positive messages. Besides, bringing a change to the lives of those who are helped, young people participating in social activities can learn new skills, make new friends, and gain valuable experience for yourself. There are many different reasons and motivations for young people to volunteer, but I believe all are good. Especially during the COVID-19 pandemic, we can see positive things spreading, but this is also a challenge that requires each person to be creative and innovative. Find a balance between personal work, family responsibilities, etc. and volunteering. I believe that young people with enthusiasm, creativity and adaptability can completely do these things."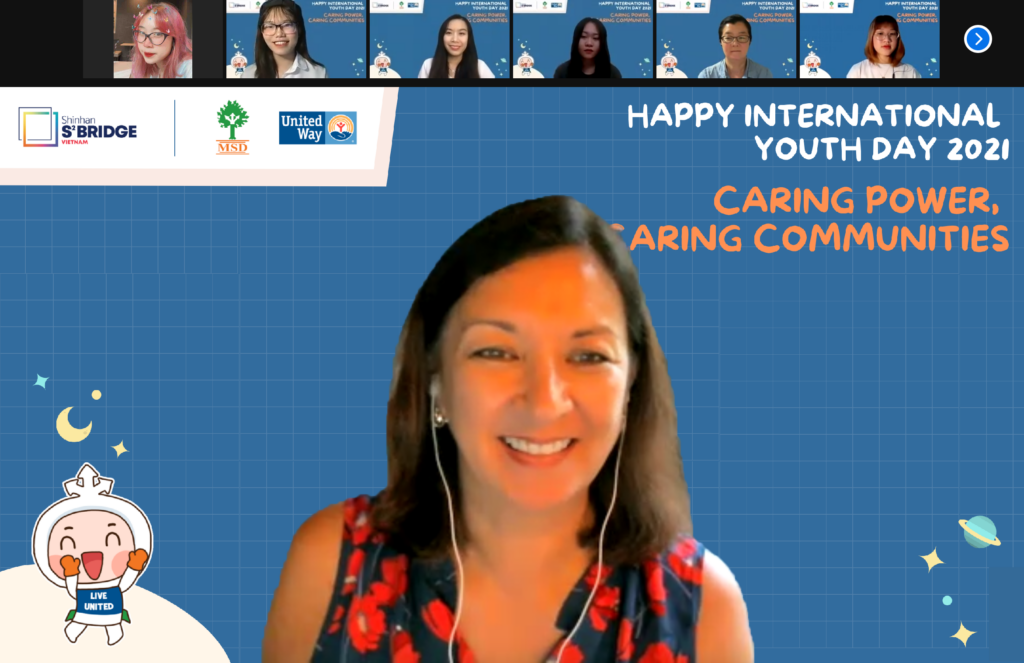 Ms. Do Thuy Duong – Director of Talent Pool shared: "Volunteering and participating in social activities is a way to learn and grow. In it, an important lesson is that you will understand the plight of difficult people, we have the opportunity to suffer their pain, so that when we face problems in our own lives , we will feel less difficulties, difficulties will promote creativity and become motivation."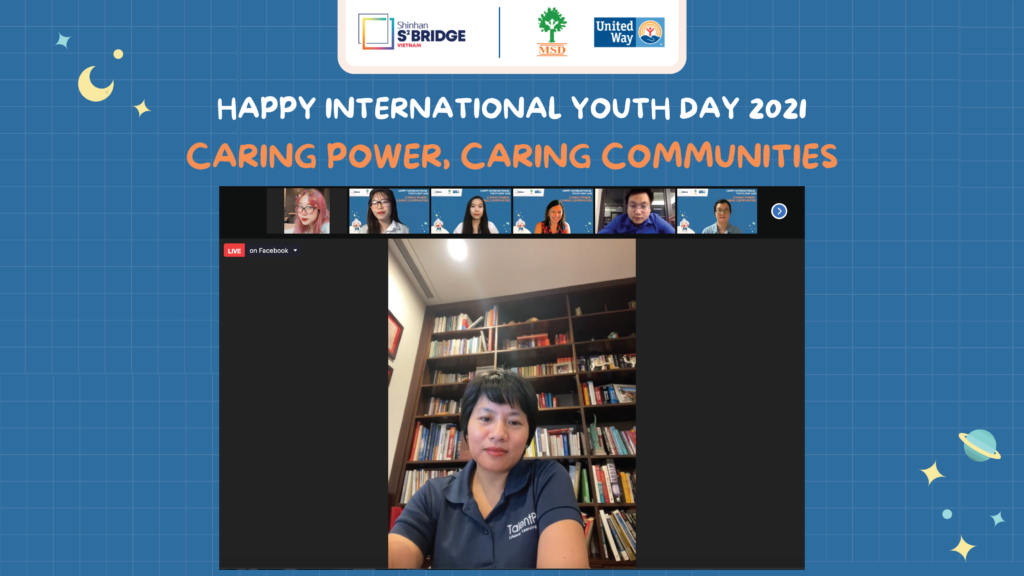 Ms. Duong also inspires and suggests to young people: "From 20-28 years old is the age when all wishes can come true, as long as you want and dare to challenge. If you have any initiatives, you can completely go to places you trust and have experience in, such as professional organizations, for guidance and fulfillment of your wishes."
The discussion is also a place for young people to express their thoughts and desires for social impact activities.
Nguyen Xuan Tien – representative of the Youth Leader United shared: "In the process of carrying out activities, committing to social activities, bringing meaningful change to the community, We – young people, hope that we will have the courage and persistence to make a positive impact. Besides, we also want to be able to receive support, guidance, orientation and training. We young people really want to be facilitated by state agencies, schools and social organizations to continue their efforts."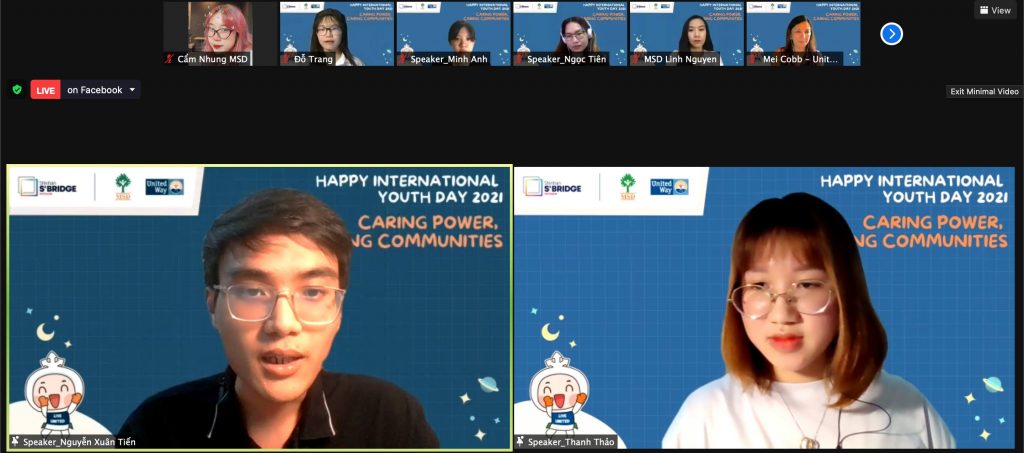 Hoang – a member of Champion of Change Club (COC), Hanoi University of Transport and Communications shared about the difficulties when participating in activities: "Students usually only work for a short period of time. The time is short, so we have to adapt to the constant change of personnel. However, we try to make sure that this will not hinder the activities of the club, and we believe that with the efforts of each member, the club will grow more and more towards a goal beyond the club model. This will be applied with other universities in Vietnam and around the world so that we can move towards gender equality as quickly as possible."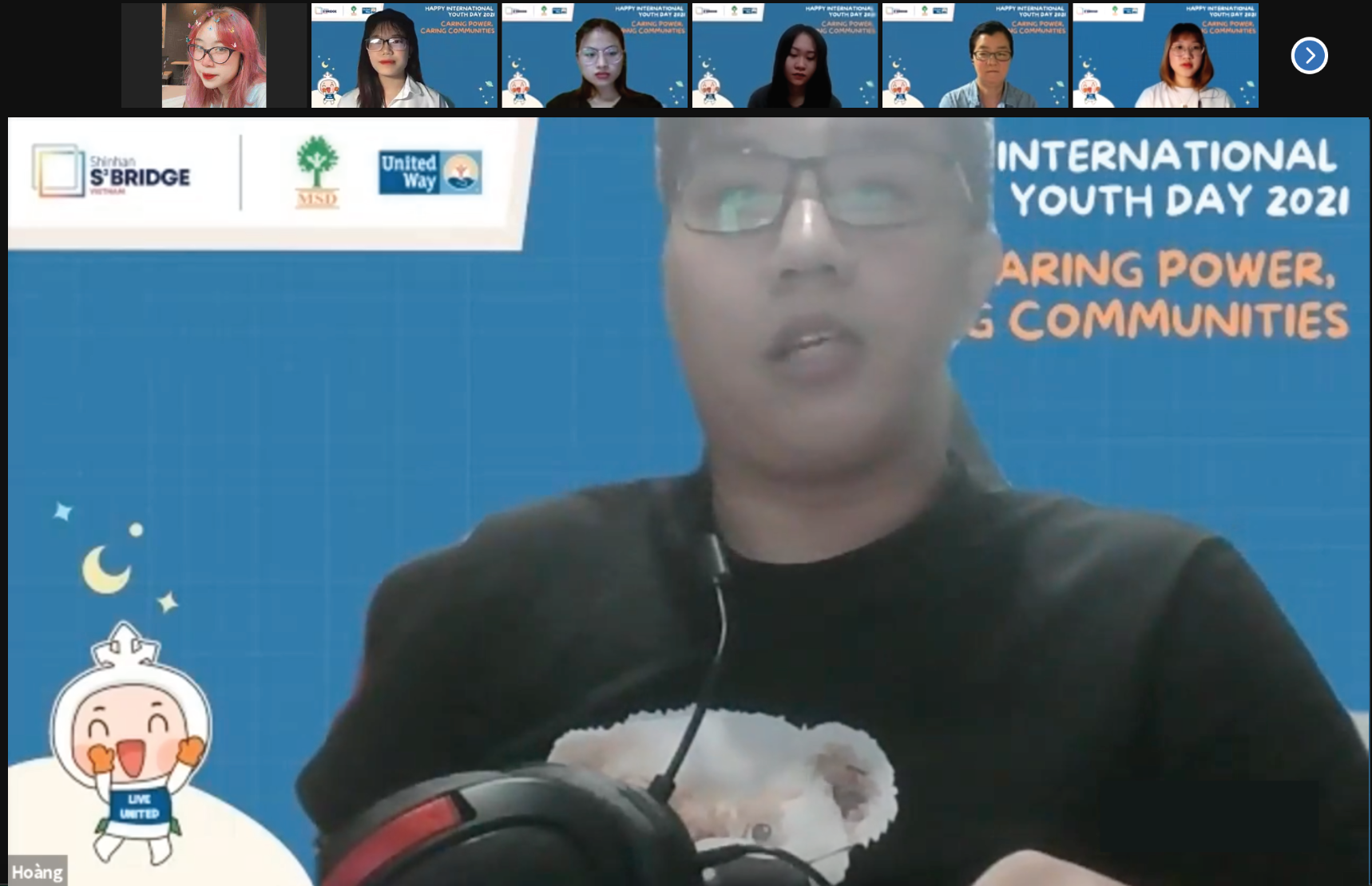 Nguyen Thi Ngoc Tam – Glass bone girl known and loved for her positivity in social activities expressed: "I always think that I volunteer not to create any miracles, but only for the sake of life. It doesn't matter how long we live, it matters how useful we live."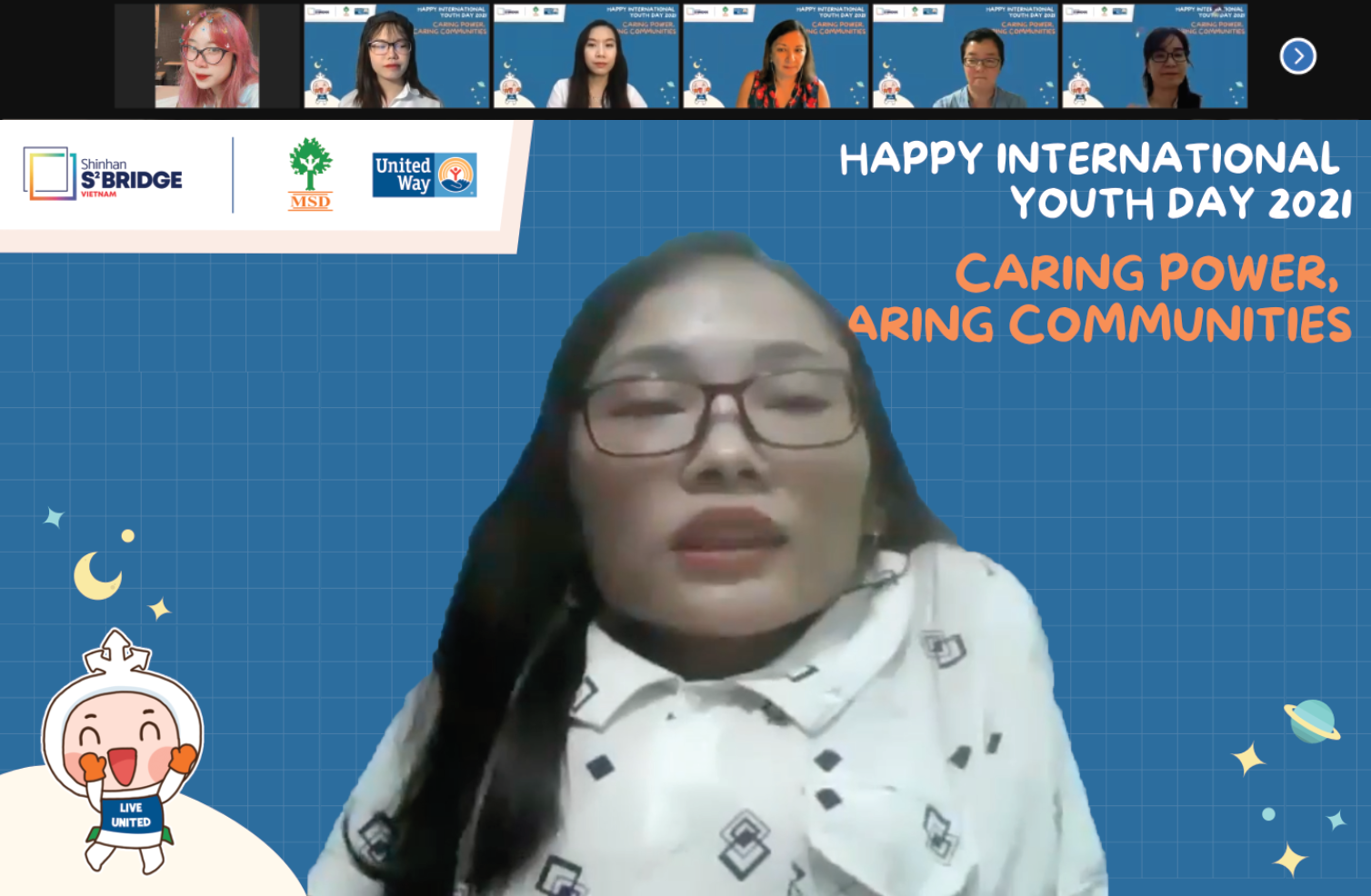 The young people also asked many questions to the speakers such as: The stereotype of volunteering is "Housework is lazy, uncle's work is diligent"; How to apply for projects and social activities without experience; Young people's pressure for career success should be taken lightly.
Closing the discussion, Ms. Tran Van Anh – Program Director of MSD Institute emphasized: "The development of programs and activities to promote the participation of young people in activities that create social impact is always within MSD's operational strategy. We hope that the efforts, voices and contributions of the young people of the new era will be widely spread in Vietnam, in the region and around the world, so that together we will create a country, a world of sustainable development, and no one is left behind."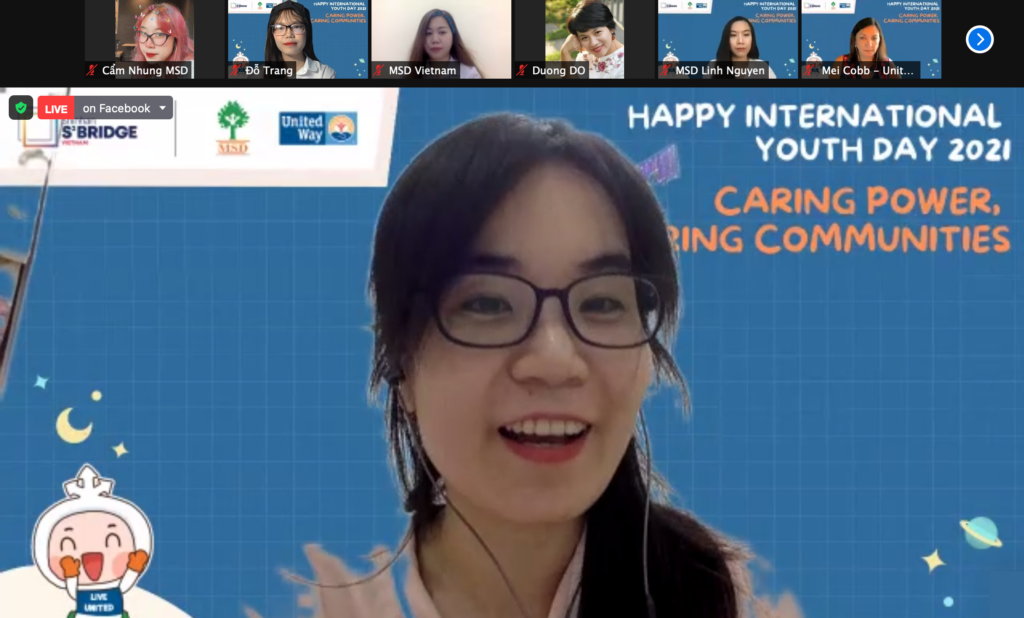 Xem lại chương trình tại đây:
https://www.facebook.com/YouthUnited.Vietnam/videos/860733591245454