Binh Duong, November 3, 2022 – Within TECHFEST VIETNAM 2022, Social Open Innovation Village, under the auspices of the National Agency for Technology Entrepreneurship and Commercialization Development (NATEC), in collaboration with Management and Sustainable Development Institute (MSD) – United Way Vietnam, United Way Worldwide (UWW), Shinhan Square Bridge Vietnam and Startup Vietnam Foundation (SVF) in the framework of the Co4Growth Initiative and the Futuremaker Initiative by Standard Chartered, organized the forum titled "Women in Innovation: She-nspiring, She-nnovation".  
In recent years, under the innovative implementation of diverse methods, the national startup spirit has become widespread among the public, attracting women from all backgrounds to engage in entrepreneurship and thus affirm their passion and motivation for innovation. Compared to men, women have certain strengths and advantages in innovation to help them gain great success, yet many still encounter barriers to reaching their creativity potential. Social prejudice, gender stereotypes, and even mental hurdles remain unsolved problems for women in their journey for innovation.
The forum titled "Women in Innovation: She-nspiring, She-nnovation" was organized to create an opportunity for networking and sharing between successful women and the majority others to share their stories, with a view to bringing the concept of "innovation" closer to the public and promoting innovation to all, in every field and profession. The forum also discussed and proposed solutions to support women in innovation, to encourage them to materialize their startup ideas, and expand their businesses to create more jobs and income, thus, contributing to the national goal of business development. The National Women Innovation Startup forum is an annual activity in the framework of the national Techfest, also in response to the National Action Month for Gender Equality.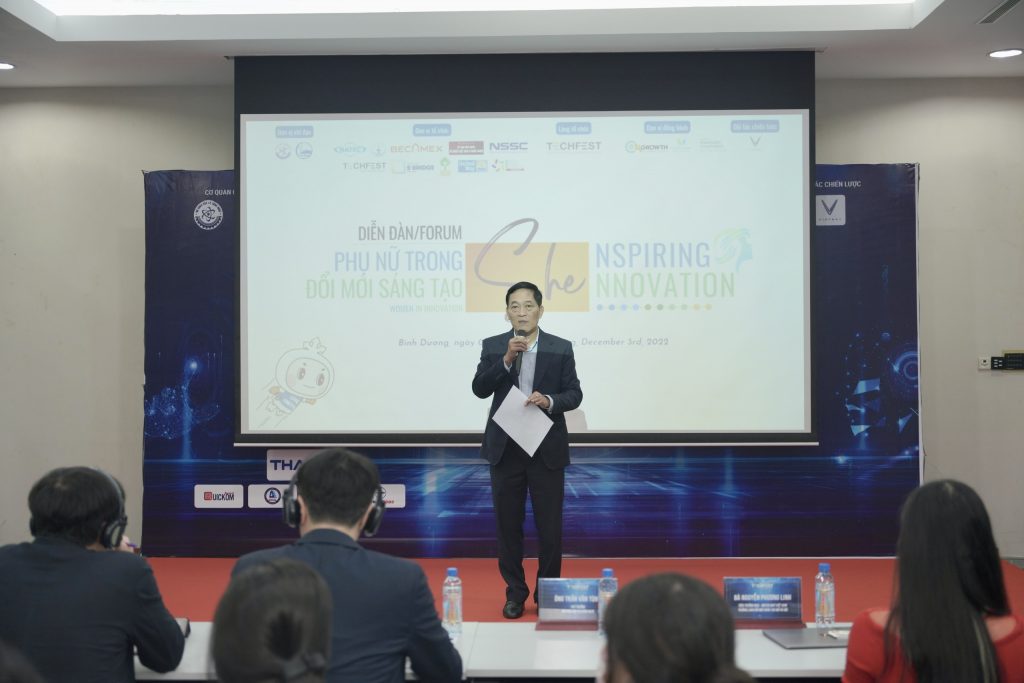 In the opening speech for the forum, Deputy Minister Tran Van Tung of the Ministry of Science and Technology emphasized: "We want to inspire and enable women to engage in innovation, to initiate new ideas rather than being entirely occupied by household activities. Women's capability is not at all different from or inferior to that of men, even more remarkable in certain aspects. I am looking forward to inspiring innovative initiatives from women-owned startups that carry the spirit of INNOVATION – CREATION, and INSPIRATION. I believe that we need to find solutions to promote collaboration between startups and scientists, corporations, and investors to support women's startups; to help them overcome barriers and develop themselves; to build competitiveness capacity for newly established female enterprises; and to create networks and promote trade."
Ms. Nguyen Phuong Linh – Executive Director of MSD – United Way Vietnam, Head of Social Open Innovation Village, shared: "Women contribute up to 40% of wealth to the Vietnamese economy. In addition to playing a role in socio-economic development, women-owned enterprises show more advantages, such as employing more female workers, paying higher social insurance premiums, having lower costs for the creation of employment, and addressing various social challenges. However, in another aspect, entrepreneur female leaders also encounter great hurdles to development, including inequality in income and opportunity for leadership positions, obsolete stereotypes stating that women are mainly responsible for mundane tasks, homemaking activities, easy work, etc. Another significant limitation comes from women, as they set barriers for themselves and even for other women and girls.
Therefore, in today's Women Forum, we want to talk about FEMALE leaders – women who have engaged in innovation, who have inspired and shown both men and women that entrepreneurs are led by their competence, hard work, professionalism, and determination, but not by gender. GENDER is not a LIMIT when we strive to optimize our potential. Creativity and entrepreneurship have no limit."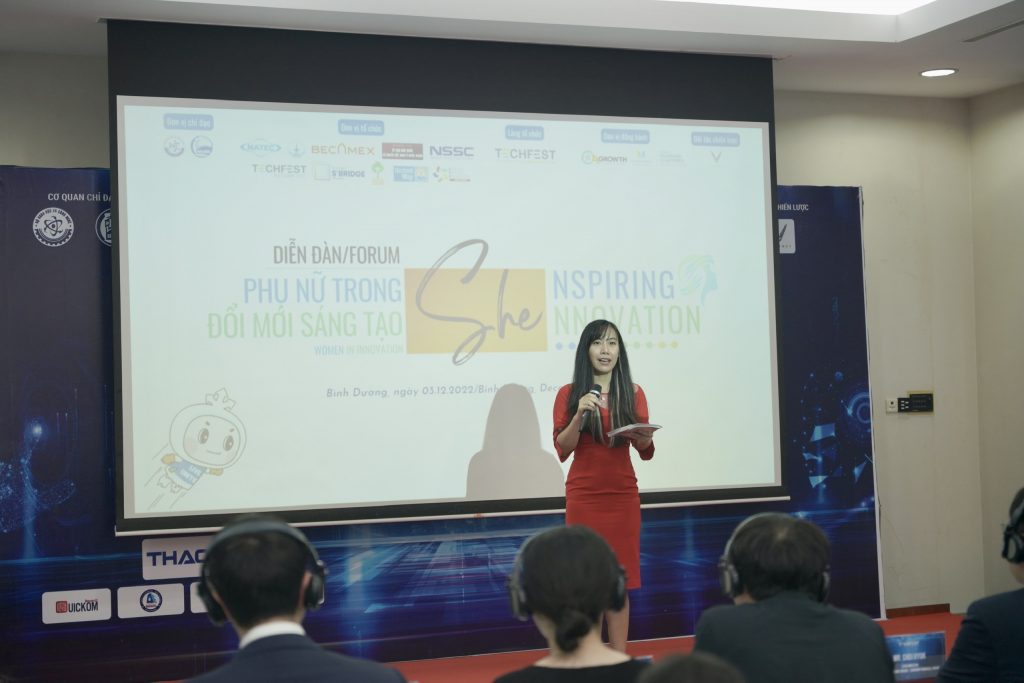 The activities of Social Open Innovation Village receive technical and financial support from Shinhan Square Bridge Vietnam and United Way Worldwide, especially in connecting and supporting social impact startups. Representing the sponsors – Ms. Hooyung Young – Vice President of UWW said: "We are at a stage where not only different professions need to collectively collaborate to create impact, like the way the Shinhan Square Bridge program has been working with startups to bring technological solutions to marginalized groups to promote inclusion, but the balance of male and female workers also have to be ensured for sustainable economic development. Vietnam is one of the leading countries in gender equality promotion activities and events like this are an opportunity for us to learn from each other and develop together…."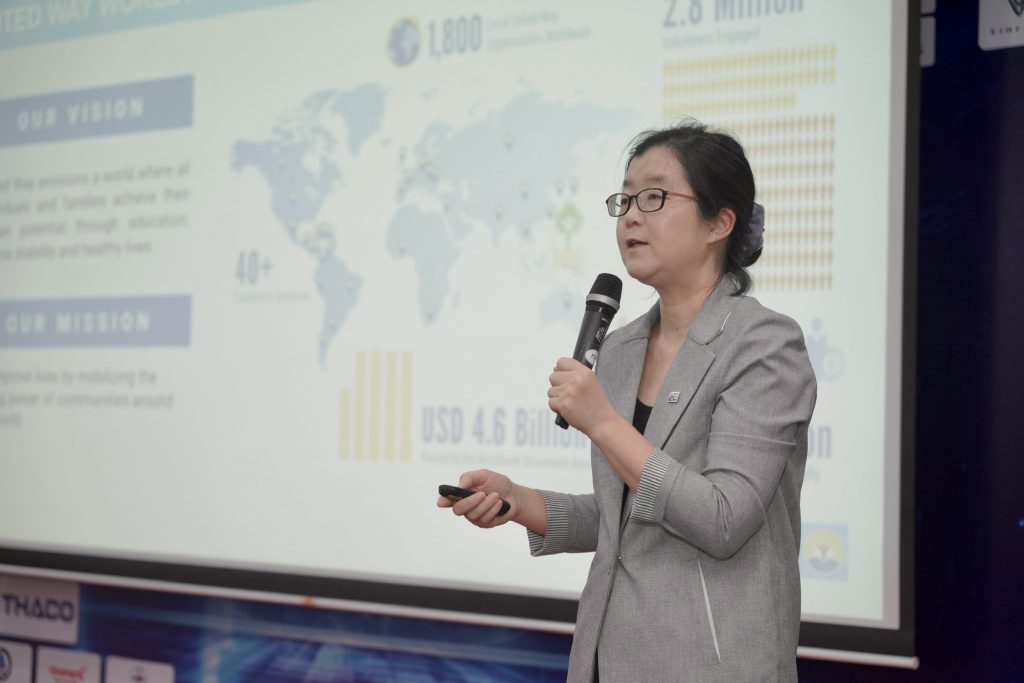 Ms. Nguyen Nha Quyen – Chief Operations Officer of Startup Vietnam Foundation shared about the Foundation's support program for women: "Women have great undiscovered potentials and excellent capability in entrepreneurship and innovation. However, when we organize support programs for women, there has not been much participation for the difficulty to arrange their family duties and work. Yet, once created, the women's network gets very strong, durable, and supportive."
The forum was followed by two inspiring presentations of female leaders from two startups with impressive achievements.
Ms. Jeaney You – an active member of WIN (Women Innovation in Korea), a Korean female executives' association, Co-Founder and CBO of Tictoc Croc – one of the startups selected to participate in the Shinhan Square Bridge program in 2022, shared about the technological model brought by Tictoc Croc and the process for women to engage in innovation startup on an international scale. Tictoc Croc brings smart technological solutions targeted at children with a view to closing the education gap through effective digital education for school-aged children from low-income families in Vietnam. Ms. You shared that, to run a business, three factors must be focused on, including Empowerment: "The leader must trust and dare to empower employees so that they can be free to maximize their full capability."
Ms. Phan Ngoc Hieu – Founder of Maypaperflower – Hue art paper flowers shared the story of innovative applications to inherit and develop Thanh Tien traditional paper flower craft village with more than 300 years of age in Hue: "I decide to pursue this profession to not only preserve the art of paper flower-making with many cultural and spiritual values of Hue but also to support local economic development in a modernized direction, in parallel with facilitating women workers, disabled workers,… to earn income and ensuring legitimate labor rights. However, there are also challenges that I have faced like many other women, that is to balance between work and family. Therefore, I believe that every woman needs their family members to trust and support them so that they can live their passion with peace of mind."
The forum was followed by a panel discussion on "Removing barriers – Empowering women in startup innovation".  
Ms. Pham Thi Thu Hang – Co-founder and Chairwoman of BambuUp shared: "For BambuUp, we want to and always prioritize support for startups with female leaders. While we believe that immense pressure on women still remains, female leaders are also receiving priority in terms of policy from regulating agencies, funds, and investors. Therefore, women should make use of this advantage to break through and do what they want."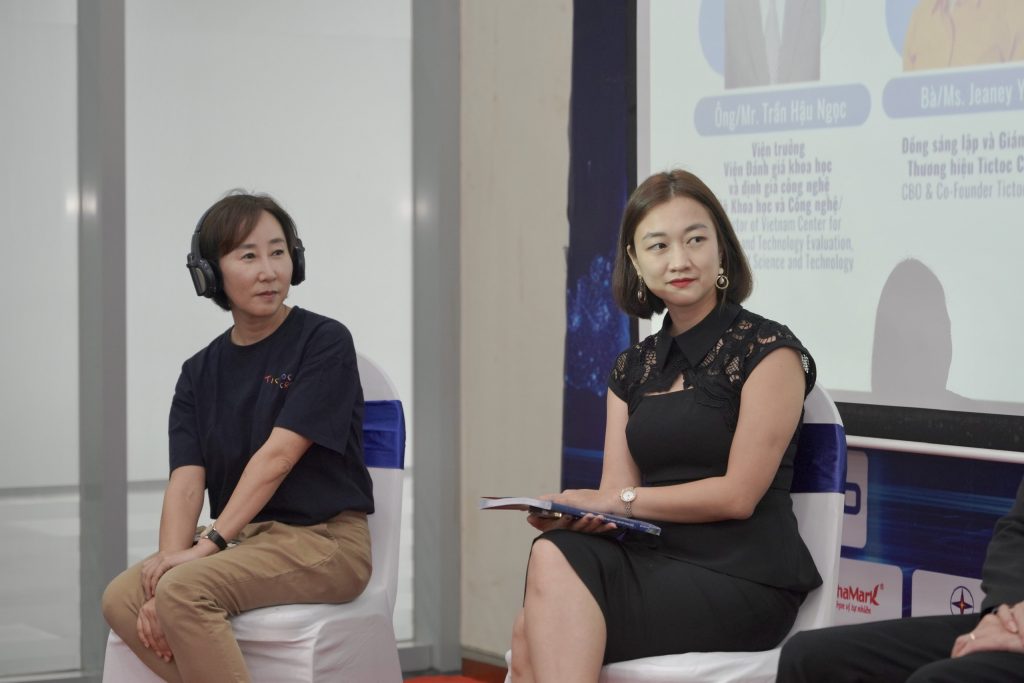 Mr. Tran Hau Ngoc – Director of Vietnam Center for Science and Technology Evaluation emphasized: "Not only in the field of innovation or entrepreneurship, but in recent years, women have held important and key management positions in the leadership system, which was previously devoid of , showing the role of women has been increasingly acknowledged. We believe that women are the motivation and the determinant for the development of society."
The forum ended with the message "Women CAN" and inspired women to break through to reach their full potential and contribute to the country's socio-economic development.