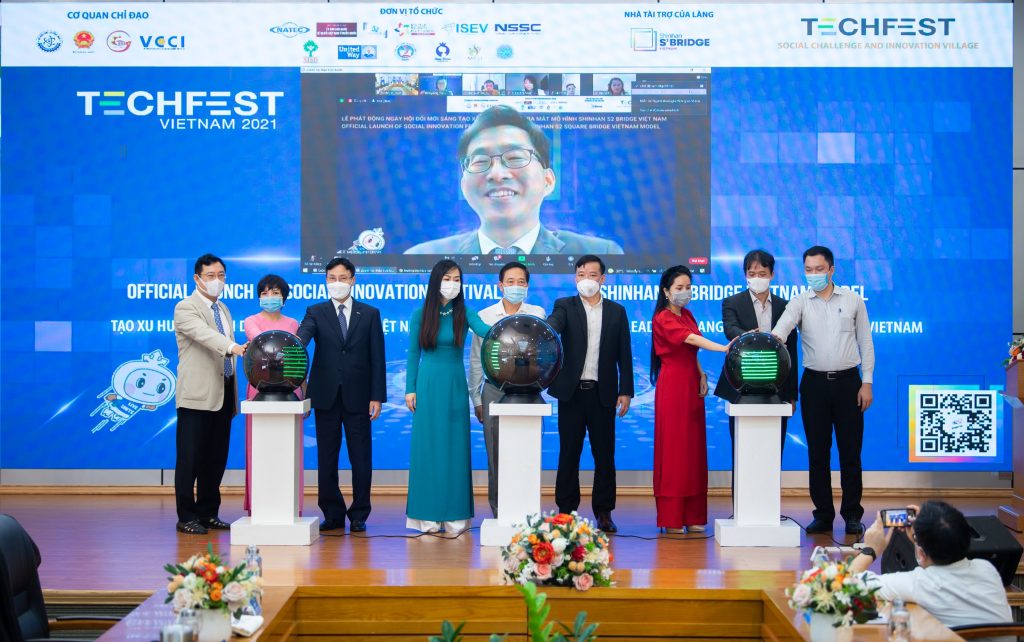 October 1, 2021, Management and Sustainable Development Institute (MSD – United Way Vietnam), the National Economics University and United Way Worldwide, the representative of the Social Innovation and Challenge Village, organized the Launching Ceremony of Social Innovation Festival and Launch of Shinhan Square Bridge Vietnam Model.
With the transition to a higher value economy, Vietnam is facing various social challenges such as connecting job opportunities for young people with different skill sets, the problem of equality in access to education and the integration of disadvantaged communities, environmental health issues, etc. In particular, the COVID-19 epidemic has increased the vulnerability of the underserved groups in society. Not only the social problem but solving social challenges is also solving the problem of meeting customer needs at an all-encompassing level of the business while ensuring the economy and integrating social solutions, towards sustainable development. This is also a trend in the new era, attracting investors, especially in the context during and after COVID.
With the slogan "Unity Cooperation – Creating Trends – Leading Changes for a Sustainable Vietnam", Social Innovation and Challenge Village by the Management and Sustainable Development Institute (MSD)/United Way Vietnam and the National Economics University, United Way Worldwide led and coordinated with the Global Network of Women Leaders and partners to launch the Social Innovation and Creativity Festival with a series of activities within the framework of the TECHFEST 2021. The village is supported by financial and technical support from Shinhan Square Bridge and the 844 Program on Supporting the national innovation startup ecosystem until 2025. Key activities The festival's activities include: Idea incubation program, innovative social startup projects, Social creative startup contest "Future Solutions", product display activities to connect the markets, Social Investor Forum, Startup Forum led by Women – Youth, etc. In addition, the festival also introduced the Shinhan Square Bridge Vietnam model – a model that has been and is being applied effectively in Vietnam. Vietnam to promote the social innovation startup ecosystem.
The event was attended by Deputy Minister Tran Van Tung – Ministry of Science and Technology; Mr. Lee Taekyung – General Director of Shinhan Bank Vietnam; Assoc.Prof.Dr. Pham Hong Chuong – Rector of National Economics University; Ms. Hooyung Young – Vice President of United Way Worldwide in Southeast Asia, Korea and Japan; Ms. Nguyen Phuong Linh – Director of MSD Institute – Head of the village, and more than 200 attendees were officials from state management agencies, village co-heads, speakers, social investors, startups. creative industries and youth.