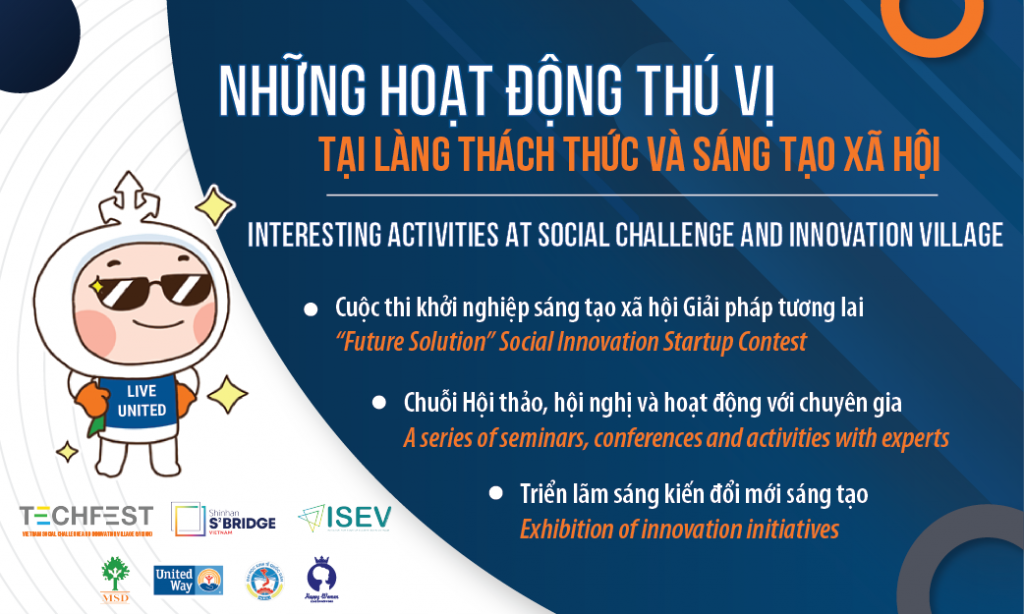 INTERESTING ACTIVITIES AT SOCIAL CHALLENGE AND INNOVATION VILLAGE, WHAT ARE THEY?
At TECHFEST 2021, the Social Challenge and Innovation Village, along with the joint efforts of all pillars in building a social innovation ecosystem, is expected to connect "the group of people affected by challenges" with "solution makers" to jointly promote innovation to comprehensively solve economic and social problems.
To accomplish these, the Social Challenge and Innovation Village will organize a series of activities, including:
(1) "Future Solution" Social Innovation Startup Contest for start-up businesses with the participation of prestigious and quality trainers, coaches and judges;
(2) A series of seminars, conferences and activities related to the following topics:(i) Circular economy and challenges for comprehensive sustainable business;(ii) Developing multi-sectoral and multilateral partnerships, attracting social investors;(iii) Experimenting with social innovation models to address challenges arising from the Covid-19 pandemic in the following areas: Livelihood – Employment; Education; Medicine – Health; Environment; Governance – Connection to address community meet the needs of the community during and after the COVID 19 pandemic;
(3) Exhibiting social innovation initiatives, organizing social investment forums, creative startup ecosystems connection forum, policy forum for social innovative start-ups; Women-Led Innovation Startup Forum & Social Challenges Addressing Forum for Youth.
Visit us on:
– Fanpage: https://www.facebook.com/www.msdvietnam.org
– Website: https://livinglabvietnam.org/
– Email: langthachthuc@techfest.vn – langthachthuc@msdvietnam.org